So a little about me before we have a chance to get to know each other over the phone or in person… My name is James and I live in a village near Canterbury with my wife Bethany. We met quite early on whilst at university in Canterbury and have been together ever since. We got married in 2015 and we've now got our first baby on the way! We both love the countryside, which often surprises me considering I grew up in Brussels and Nigeria.
Although my life now looks very different to that of my childhood, my Nigerian heritage and Belgian upbringing are both big parts of who I am. If the truth be known, I can be a bit of a nerd (I could talk superheroes, manga and epic fantasy novels for days!). I also do crossfit, but I promise not to bring it up in every conversation!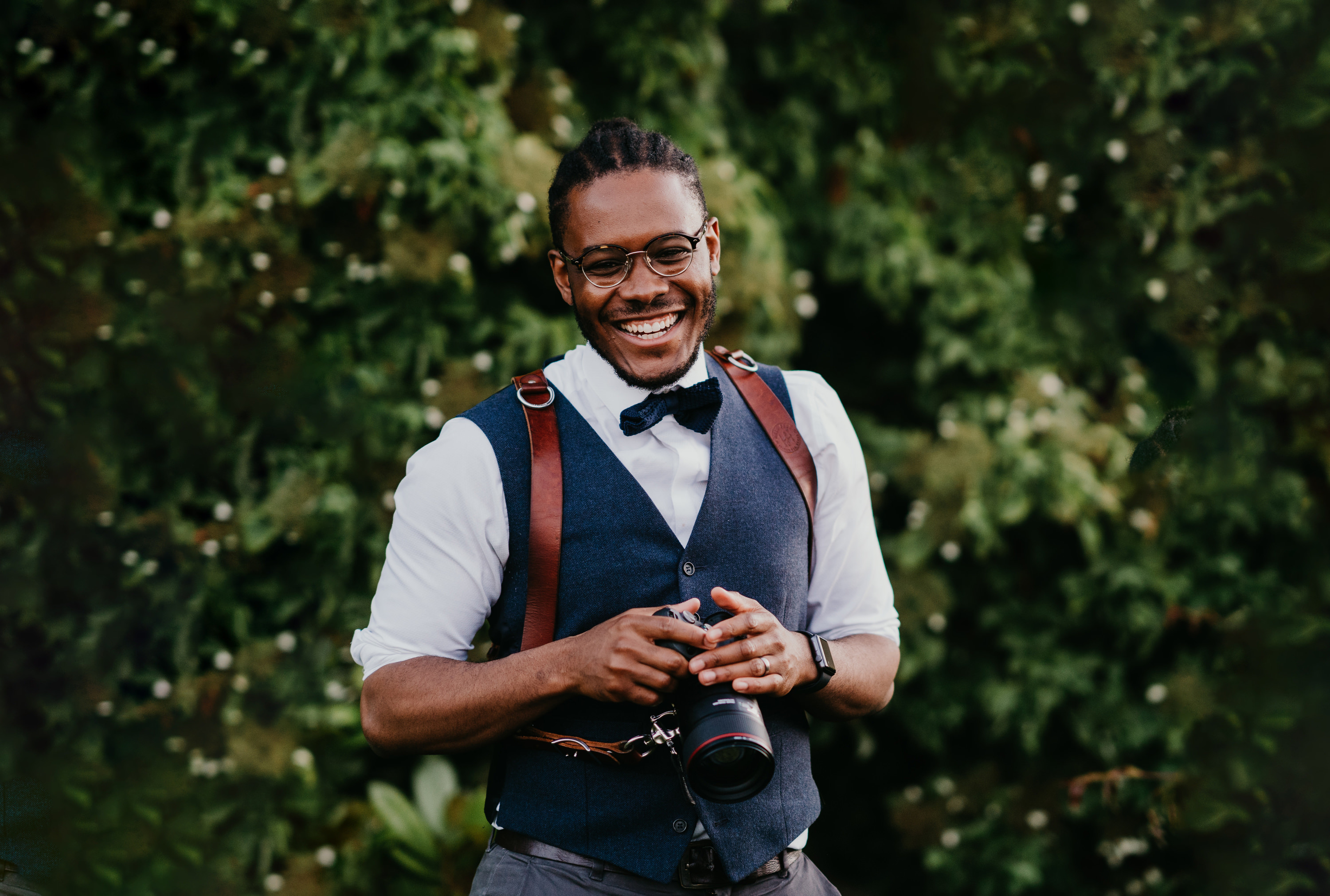 My Style
The most important thing you need to know about me however, is my photography style. My approach to photography starts long before I pick up my cameras- it starts from the moment a couple says they want me to be the one to photograph their wedding.
As a couple, you are unique and so is your wedding. So I start by getting to know you so that I can produce photographs that are perfect for you. It's so important to me that your photos aren't generic or a copy of someone else's. I take great care to make them personal to you, showcasing who you are as a couple and all the intricacies of the wedding you have so carefully planned together.
The work I produce is natural and candid. I am a documentary photographer, capturing the story of each wedding day as it unfolds. I create a relaxed atmosphere so that those around me feel comfortable to be themselves. The very last thing I want to do is make couples pose for hours on end. I want to capture you and your guests having the most fantastic time which means I blend into the background whilst you carry on with what really matters- enjoying your beautiful wedding that celebrates your lives together.
When it comes to portraits, the first thing I do is help you to feel comfortable and relaxed so that we can create beautiful portraits that look natural. I will give you some guidance in order to achieve the best photographs we possibly can. I find that portrait sessions are such a lovely part of the day as it is time where you can take a breathe in what will be a very busy day. So often couples forget about me and just enjoy the time they can spend together. It can be so intimate and I love that- I am just there to capture it and create beautiful memories that you can keep forever.